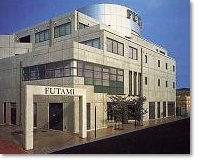 Yukata are textile products that touch the skin directly. The production process is very delicate in a different meaning from that of precision machines. At Futami, we are the top manufacturer in the yukata industry, with prominent achievements and technical know-how in the design, dyeing, and shipment of yukata. Our yukata are unrivaled.
œCraftsmanship and sensitivity
œOriginal machines and excellent facilities
These factors should be balanced to put excellent products on the market.
Our pioneering mind and enthusiasm are vividly breathing in every corner of our flexible production system that precisely grasps the current tastes and needs.