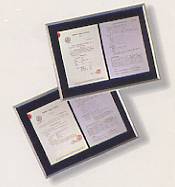 No leakage after 100 operation tests !!
Traditionally, it was taken for granted that safety valves always leaked when they operated and the maximum allowable leakage was specified by domestic and foreign standards. To conquer this practice, we developed a special technology and challenged a safety valve operation durability test
for the first time in the industry
. We received a certificate that our safety valves did not leak, even after one hundred operations. Our achievement attracted a great deal of attention in Japan and was reported in the newspapers.